The Queen and the Poet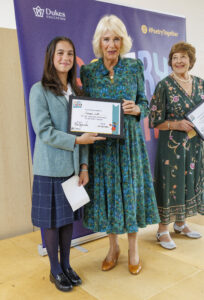 We were very excited to see Georgie Wall meeting the Queen at the Dukes Poetry Together event at the British Library. As a previous Poetry Together winner for her poem: Poppies, Georgie was greeted by the Queen and looked exceptionally smart in her new Broomwood uniform. The event was hosted by Gyles Brandreth and involved workshops with the children's Laureate Joseph Coelho,  slam poet Polar Bear and poet Jodie Russo-Red.
Congratulations to Georgie for being such a fine ambassador for our school!