Working at Broomwood 
Our school is a friendly and welcoming place and Broomwood staff often remark on the unusually strong 'family ethos' and sense of community. We are not just united in the care of our children, we also want to ensure that our staff are fulfilled and happy.
For academic staff, there are many opportunities to participate in school trips and excursions – including the annual skiing trip – and to help run clubs and extra-curricular activities. Staff development is taken seriously.  Benefits include a salary scale which is well above the maintained sector and a generous teachers' pension scheme. We take pride in the high calibre of our staff and many of them move on to leadership or senior positions either at Broomwood or further afield.
Our children are happy and so are our parents. We couldn't achieve this without excellent, motivated staff who enjoy what they do.
We look forward to meeting you.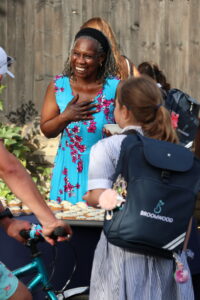 We currently have the following vacancies:
Assistant Director of Music, Cross site Role (Maternity Cover), closing date 9:00 am, 2 October 2023
Head of Science, Broomwood Boys, closing date 9:00 am, 30 September 2023
Head of Maths Broomwood Girls, closing date 9:00 am, 2 October 2023
Key Stage 2 Generalist Teacher with French, Broomwood Boys, closing date 9:00 am, 2 October 2023
Year 2/3 Pre-Prep Teacher (Maternity Cover), Broomwood Pre-Prep, closing date 9:00 am, 2 October 2023

Personal Assistant to the Head, Broomwood Pre-Prep, closing date 9:00 am, 2 October 2023
1:1 Learning Support Assistant, Broomwood Pre-Prep, closing date 9:00 am, 2 October 2023
1:1 Learning Support Assistant,  11 hours a week (5.5 hours over 2 days) Broomwood Girls, closing date 5:30 pm,  28 September 2023